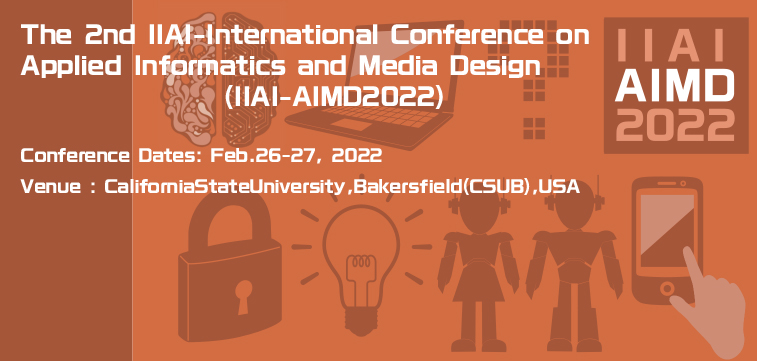 The 2nd IIAI-International Conference on Applied Informatics and Media Design (IIAI-AIMD2022)
Sponsored by International Institute of Applied Informatics (IIAI)
Conference Dates: Feb.26-27, 2022 Venue : California State University,Bakersfield(CSUB),USA
IIAI-AIMD2022 focuses on practices, technologies, applications and theories for Applied Informatics and Media Communication, including Social Informatics, Computer & Humanities, BioInformatics, Data Science and so on. IIAI-AIMD2022 offers a multi- disciplinary approach to Applied Informatics. this conference brings together scientists, engineers, computer users, and students to exchange and share their experiences, new ideas, and research results about all aspects of Applied informatics in a broad range of fields. The topics of interests include but not limited to:
Media Design and Communication

Interaction Design
Information Design
Computer-mediated Communication
Entertainment Computing
Human Interface

Intelligent Computing

Artificial Intelligence(AI)
Algorithms
Computer Security
Mathematical modeling
Internet of Things (IoT)

Visual Communication

Computer Graphics
Virtual Reality (VR)
Augmented Reality (AR)
Game Programming
Media Art

Data Science

Data Modeling
DataBase Systems
Data mining
Information Retrieval
Big Data Analytics

Social Informatics

Social Media and Internet Research
Media in Education(MIE)
Media Analysis
Electronic Intellectual Property
Information Security

AI and Media

Artificial Intelligence on Media
eXtended Intelligence
Artificial Life
---

PAPER SUBMISSION
Formatting, Templates, and Submission instruction
The conference publication will be published by IIAI Open Conference publication series.
The file that you submit should include the paper title, abstract, keywords, and introduction followed by the body of your paper. The author¡Çs name and address MUST NOT appear in this file. This is to facilitate a blind review.
Upload your paper in single column format (not to exceed 10 single-spaced pages for full papers and not to exceed 8 single-spaced pages for short papers) via the above system in PDF format, or you can submit your paper in the final manuscript format.
* Word Template (Doc)
The format of the final manuscript should be in single column format and 9-10 pages in length for full papers.
The format of the final manuscript should be in single column format and 5-8 pages in length for short papers.
Please enter at least two keywords at the time of submission. We need this information when determining reviewers for your paper.
Please select relevant topics from the topic areas.
Submissions, refereeing, and all correspondence will be conducted by e-mail.
---
Submit your paper via the web-based paper submission system following the instructions below:

https://easychair.org/conferences/?conf=iiaiaimd2022
NOTE: Please create your account of easychair.com if you don't have.
No-show policy
The paper may be excluded from post-congress publication if the presentation is not made at the conference. No-show papers are not recommended in the post-conference publications. IIAI does not receive the submitted papers by past no-show authors.
---

RESISTRATION
Please use the following registration system.
---

Important Dates
Full/short paper submission deadline :

Dec.28, 2021

Submission deadline(Abstract paper) : Feb.10, 2022*extended
Notification: Feb.20, 2022
Steering Committee Meeting: Feb. 24
Welcome Networking Event: Feb.25
Banquet: Feb.26
Conference Dates: Feb. 26 – 27, 2022
---

Venue Information
California State University,Bakersfield(CSUB),USA



* 2-3 hours drive to Los Angeles, Hollywood, The beach, San Diego, San Francisco, Las Vegas, Silicon Valley…etc
* Hybrid Conference: You can also participate Online(Zoom).
---

Proceedings and post-conference publications
Selected papers will be invited to be submitted the following journals.
(The publication has ISSN number and published papers have DOI. The paper will be indexed by CrossRef and Google Scholar)
---

Registration Fee
| | | |
| --- | --- | --- |
| Early Registrations | Price | deadline |
| General: author/presenter/audience | 500USD | Jan.25,2022 |
| Student:author/presenter/audience | 400USD | Jan.25,2022 |
| | | |
| --- | --- | --- |
| Late Registrations | Price | deadline |
| General: author/presenter/audience | 600USD | Feb.20,2022 |
| Student:author/presenter/audience | 450USD | Feb.20,2022 |
| | | |
| --- | --- | --- |
| Onsite Registrations | Price | deadline |
| General: author/presenter/audience | 650USD | on the day |
| Student:author/presenter/audience | 480USD | on the day |
Ineligible registrations
All registrations are reviewed to ensure they meet IIAI eligibility policies. IIAI reserves the right to refuse or cancel all ineligible registrations at any time and shall not be held accountable for any outside fees associated with this cancelation. Please refer to the specific Eligibility Policy.
Refund Policy
Refund of payment in case of registration cancellation is:
Cancellation before Feb 10, 2022: 50% of payment is charged for the penalty.
Cancellation after Feb 10, 2022 will not be proceeded and not be refunded.
IIAI regrets that refunds will not be given for no-shows.
---

Conference Committee
Program Chair
Prof.Taishi Nemoto (Mejiro University, JAPAN)
Local Arrangement Chair
Prof.Takayuki Fujimoto,PhD. (Toyo University, JAPAN)
Financial Chair
Prof.Tokuro Matsuo,PhD. (Advanced Institute of Industrial Technology, Japan)
Program Committee
Prof. Mikihiko Mori (Mejiro University, JAPAN)
Prof. Koji Fujita (Cyber University, JAPAN)
Prof. Ziran Fan,PhD. (Toyo University, JAPAN)
Prof. Tokuro Matsuo,PhD. (Advanced Institute of Industrial Technology, Japan)
Yuri Sakamaki (California State University, Bakersfield)
---

Past / Related Conference

---
Copyright 2022(C) The 2nd IIAI-International Conference on Applied Informatics and Media Design 2022